Randonnées en raquettes à neige - Snowshoeing Tours
TARIFS - dès 4 participants (*)                    
Demi-journée - à partir de 30 €uros/pers. Enfant 6 à 18 ans, 25€.

Journée - à partir de 55 €uros/pers. Enfant 6 à 18 ans, 50€.
                                 
Tarif engagement du guide (*)
à la demi-journée - 120 €.
à la journée - 210 €.
                                 (*)Equipement - raquettes et bâtons - non-compris.
PRICES - starting at 4 participants (*)

Half day - from 30 €uros/pers. Children 6 to 18 years old, 25€.

Full day - from 55 €uros/pers.Children 6 to 18 years old, 50€.
Guide's fees (*)
for the half day - 120 €
for the day - 210 €
                              (*) Equipement - snowshoes and poles - not included.
Maximum 12 participants
LA RAQUETTE A NEIGE, c'est une approche différente de la neige.
Rien de tel qu'une promenade en raquette pour s'enfoncer au cœur de l'hiver. Avec un guide, en toute sécurité...
SNOWSHOEING is a different approach to the snow.
There is nothing like a snowshoe walk to get into the heart of winter.
With a guide, in complete safety...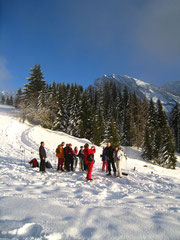 Des promenades accessible à tous

Le temps de quelques heures, tournez le dos à la foule et aux itinéraires balisés. Respirez à pleins poumons, prenez le pouls du monde sauvage... Ici, à deux pas de ce hameau de montagne isolé, là, au détour d'une clairière chargée de neige, ou encore sur ce plateau noyé dans la lumière du couchant…
Walks accessible to everyone
For a few hours, leave the crowd and the marked trails. Breathe deeply, take the pulse of the wilderness... Perhaps here, near this isolated mountain hamlet, or there, at the bend of a snow covered glade, or even farther on this plateau drowned in the sunset light...
EN REFUGE EN MONTAGNE

Avec les plus aventureux ou les plus sportifs, chargeons les sacs et gagnons ce petit refuge blotti dans la montagne. Nous y dégusterons une fondue au fromage succulente, prélude à une veillée à la lueur de la bougie, comme chez les anciens.
Vous adorerez !
Tarifs: nous contacter - Rates: contact us
OVERNIGHT IN A MOUNTAIN HUT
With the more adventurous or sporty, let's pack the rucksack and reach this little hut nestled in the mountains. We will have a delicious cheese fondue, a prelude to a candleside evening, like in the old times.
You will love it !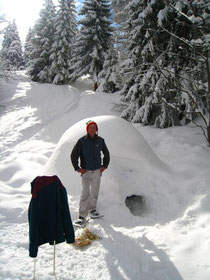 NUIT EN IGLOO
L'igloo est l'abri le plus naturel et le plus écologique qui soit. Rien de tel qu'un spécialiste pour vous initier aux diverses techniques de construction de ce drôle d'habitat. Avec, pourquoi pas, la possibilité d'y déguster une fondue ou de passer la nuit sur place !
Tarifs: nous contacter
OVERNIGHT IN AN IGLOO
The igloo is the most natural and greenest shelter ever. Nothing better than a specialist to introduce you to the various construction techniques of this strange habitat. With, why not, the opportunity to enjoy a fondue or to spend the night on the spot !
Rates: contact us
Vallée Blanche & Glacier du Géant - Chamonix-Mont-Blanc