Les Via Ferrata à faire absolument.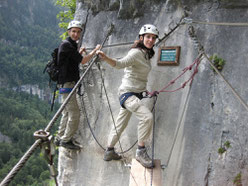 Elles sont au moins au nombre de deux.
L'une est à portée de main, sur la commune de Sixt - c'est la Via Ferrata du Mont, faisable en demi-journée. Idéal pour l'initiation, voir initiatique !
L'autre, à la journée complète, c'est la Via Ferrata du Jalouvre dans le massif des Aravis, à + ou - 1 h de route. 

Il y en a bien d'autres. Mais ces deux là, pour leur "calibre" respectif, restent définitivement incontournables.
The Via Ferrata not to miss.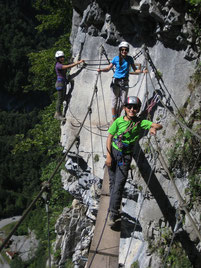 They are at least two in number.
One is at hand, just near the village of Sixt - it is the Via Ferrata du Mont, doable in half a day. Perfect for beginners, initiatic in some ways!

The other, the Via Ferrata of the Jalouvre in the Aravis massif needs a day, and is reachable within 1 hour drive from Sixt.
There are many others. But these two, for their respective character, are definitely a must.